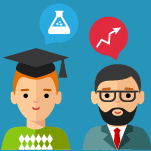 By: Dr. Enrique A. Páez
Deloitte
When McKinsey & Company published its report, "The War for Talent," in the early years of the 21st century, several forward thinking organizations redoubled their efforts and adopted initiatives in anticipation to the implications that were announced in that document. The lack of talent with diverse skills would remain a key inhibitor to the development of organizations, especially in the knowledge economy.
In the United States, Deloitte, the professional services firm, decided to make a significant investment in 2007 to address these forecasts as an innovative leader. Professional services firms flourish by acquiring the best talent that their employee value proposition enables them to recruit The great dilemma was whether to invest in a cutting-edge technology initiative, given the desire and intuitive technological knowledge that new generations of professionals bring as part of their lifestyle, or to invest in a space that would become a model for culture and dialogue on the company's raison d'être. The decision was made in the latter direction and a multimillion-dollar investment was allocated to create Deloitte University.
Today, eight years after that decision was made, Deloitte University has exceeded all initial expectations. The first business case was justified by the savings from learning expenses derived from external learning venues rent, e.g. classrooms. However, the substantial return on such investment has emerged from the differentiation in the delivery of quality service, in comparative advantage in our employee value proposition, which has positively impacted the firm's attraction and retention of talent, and in the dissemination and engagement of the professionals with the Deloitte culture. Based on this experience, new centers have been opened in Brussels and Singapore, and at this time centers connected to the DU network are being developed in Brazil, Canada, Colombia and Mexico. In addition, there are plans for expansion of the original center site in the United States.
On one occasion, a client asked how a school concept could be so successful? DU is far from being an ordinary school. First, one must examine the training and learning model of the big-four professional services firms. For years they have offered cutting-edge technical courses to all their professionals. However, despite their value, these have never been decisive factors when clients choose the advisory services of one or the other.
A lesson learned is that a corporate university is much more than the reconditioned learning center where a company's collection of explicit knowledge is shared. The corporate university must be fully aligned with the strategy and the ultimate goal of the organization and in its way of boosting the value creation capabilities of its clients.
A frequent problem of business advisors is that they recur to be are advertised as the best creators of value. This is a myth. Recent theories of marketing, such as Service Dominant Logic or Service Logic, posit that the customer is the only one who creates value and that the advisor only facilitates that creation. Recently, value has also been discussed as an experience that can only be determined by the client.
However, knowledge itself has no commercial value until it is implemented, that is, until a business entity decides to integrate the knowledge into his value chain that creates products or services, such that a customer is willing to pay for them a price that allows for a profit margin in top of their cost.
Organizations take knowledge to their processes of value creation through the skills of their employees, that is, through sets of knowledge resources that are both implicit, in the mind and behavior of people, and explicit. What we should be interested in, is in the development of specific skills that enhance the raison d'être of our business, that is, skills that enable value creation of our customers, i.e. value facilitation.
Everything Is About Our Customers and our Collaborators
If a company does not depend heavily on the skills of its collaborators to transfer value to its customers, it is hard to justify an investment in a sustainable corporate university, steeped in corporate culture committed to excellence in service. Each exposed object, each corridor, interior, classroom, and garden, etc. of DU transmits an experience to its participants. DU has been carefully planned to communicate a powerful message: "This is what it means to be Deloitte and this is the level of service and experience that I hope you will transmit to our customers."
The idea is for the corporate university not to be a pure learning experience directed internally, but that it should have an outgoing perspective, enticing a culture of quality service to customers, and ready to communicate and interact with them.
The Environment to Encourage Talent Dialogue
Much has been written about the tactics of training and retaining talent. In our experience, there is nothing like hearing viva voce from the great business leaders on the meaning of a program to transcend and influence the business sectors and the public sector that we serve.
Organizations that are heavily based on the knowledge economy have strong organizational cultures. These cultures tend to develop a resistance to learning from external professionals. It is certainly not a resistance to the technical concepts – a field in which the universities have produced state-of-the-art knowledge – but to the great value of the training offered by other leaders, which consists mainly of second cycle or even higher order learning. It has something to do with the formation of abilities to perform technical tasks, but much more with professional reflection on how to use these technical skills to enhance customer value creation.
Only a leader trains another leader. The corporate university should not be directed by pure academics, but by business leaders. An investment in a building, without the leaders who lead and give encouragement, will turn out to be an investment with questionable objectives.
Adults Do Not Learn In the Same Format as Young People
School learning styles (for example, "sit while I talk you through 60 Power Point slides") have proved to be unproductive in corporate environments, having experientially observed their further poor transfer into the workplace. A public sector client told me that he spent millions each year on training, and the only noticeable result he obtained was having trained a team of "professional students". In effect, a large percentage of the money that organizations spend on learning is money wasted.
Adult learning, especially if it is to develop abilities (mixture of explicit knowledge with implicit skills) depends on (1) the environment of sensory and spatial experiences during the teaching, (2) achieving small personal successes through learning by doing, (3) the intense, deep and focused practice accompanied immediately by comments and advice from experts, and (4) the social context (social and professional groups) in which learning occurs, which is one of the key ingredients we have observed in adult learning.
References
Argyris, C. 1976. Single-Loop and Double-Loop Models in Research on Decision Making. Administrative Science Quarterly, Johnson Graduate School of Management, Cornell University, 21 (3): 363-375.
Coyle, D. 2010. The Talent Code: Greatness Isn't Born, It's Grown, Random House.
Day, G. S. 1994. The Capabilities of Market-Driven Organizations. Journal of Marketing, 58 (4): 37-52.
Grönroos, C. 2011. A Service Perspective on Business Relationships: The Value Creation, Interaction and Marketing Interface. Industrial Marketing Management, 40 (2): 240-247.
Helkkula, A., Kelleher, C. y Pihlström, M. 2012. "Characterizing Value as an Experience: Implications for Service Researchers and Managers". Journal of Service Research: JSR, 15 (1): 59.
Michaels, E., Handfield-Jones, H. y Axelrod, B. 2001. The war for talent, Harvard Business Press.
Nonaka, I. 1995. The Knowledge-Creating Company., Nueva York, Oxford University Press.
Vargo, S. L. y Lusch, R. F. 2008. "Service-Dominant Logic: Continuing the Evolution". Journal of the Academy of Marketing Science, 36 (1): 1-10.