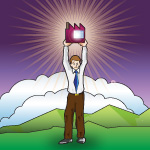 By: Luis González
School of Economics and Enterprise
University of Salamanca
Our vision, ideas and beliefs, our images of a Company are frequently formed by elements such as installations, productive processes, machines, tools, management methods, etc. However, in companies – in all companies – there has always existed another component and it is present in all the departments, in all the activity areas. This component, that has received different names throughout history, such as workers, personnel, human resources or employees, is the human capital.