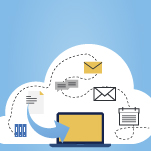 By: Marco Morán, ITAM
The competitive environment that businesses confront today requires the constant improvement of our products or services in order to increase customer satisfaction and, at the same time, increase or maintain operating margins; all of this with an almost immediate set up speed.
On the other hand, there is no longer a business that does not have a strong operational and strategic dependence on information technologies, the technological enabling of processes, products and services. To respond to market changes, you will need to keep pace with the demands that companies face.
Initiatives such as the consolidation of the business unit, acquisitions, divestitures, changes in the business model, or preparation for the initial public offering (IPO) have an important component of information technologies.
In this paper, we will discuss, from a business point of view, the basic concepts of cloud computing, which has become a major topic of interest because of the speed and ease with which we can get state-of-the-art technology at affordable prices for any company and that can help us face current challenges and difficulties.
Even though cloud computing has been on the market for a long time, there is still much confusion about what it means in various markets or business sectors. Cloud computing is the practice of using a remote network of services that are hosted on the internet to store, manage and process data, rather than a local server or a personal computer.
Cloud computing has certain attributes, delivered in different ways and services. The company that uses in-the-cloud technology does not own the assets, it only pays to use them.
It is a scalable and elastic scheme. That is, they are shared services that can increase or decrease as required. The main infrastructure, software and platforms are shared among customers who use a service.
Cloud computing offers a variety of payment models according to use. That is, payment is by consumption without having idle capacity installed in the company or insufficiencies in times in which the processing needs of a company increase. The cloud uses internet technologies, and services are provided using identifiers, formats and protocols such as URL, HTTP, IP, etc.
There are three ways to deliver services in the cloud:
Public Cloud. Computer assets belong to a third party and anyone can take advantage of them. The assets, definition of the service, cost and risk of implementation are responsibility of the service provider.
Private Cloud. Computer assets belong to a company, which limits access to the users of its organization or to those who decide to give them the payment. Assets, definition of the service, cost and risks of implementation are responsibility of the customer.
Hybrid Cloud. Services are coordinated between internal and external computer elements. There are various combinations, so this style has gained popularity.
Finally, let us talk about the services that companies can acquire using cloud computing:
Infrastructure as a Service (IaaS). It is equivalent to the initiatives of information technology infrastructure and data centers. The IaaS provides an almost immediate self-service scheme of scalable and elastic infrastructure resources complemented by storage and network capabilities.
Platform as a Service (PaaS). It is the version of cloud services that deals with the infrastructure of applications: the technological foundation to develop, test, integrate and deploy technology.
Software as a Service (SaaS). It is the layer of computing applications in the cloud. One or more providers own the software applications and are the ones who deliver and manage them. The method of purchasing of SaaS is based on the volume of use or consists of a subscription that depends on certain metrics.
Business Processes as a Service (BPaaS). It is a specific type of outsourcing through internet-based technologies. The provider is responsible for the management of the process, the steps are highly automated and the customer is given access to data for reporting information or preparation of analysis.
In conclusion, cloud computing is an option for launching business initiatives in an agile, scalable and low cost manner. Cloud technology is state-of-the-art, secure and accessible for companies of all types and sizes. It is a scheme that must be revised at the time of identifying the options when an initiative requires a technological component.
Many providers have a complete offering, and some specialize in a niche. Certainly, the market will continue to evolve and strengthen the offer of services. It is important that the evaluation of options is informed and that it follows a formal procedure to choose the one that best suits the needs of the company.