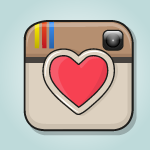 By: Enrique Murillo
Instituto Teconológico Autónomo de México
In the last three years, a new variation of social networking has become popular among many users. We're referring to visual social networks, in which users share images and photographs, more than personal news, such as in Facebook or Twitter.
Although since their inception Facebook and Twitter have had the capacity to share photos (as demonstrated in the dramatic photo of the landing of US Airways Flight 1549 on the Hudson River in 2009), Instagram and Pinterest, the most widely known of this new genre, were specifically designed to display and share photos and images
Pinterest is organized in the form of visual boards, as seen in Figure 1, which shows the official site of Ralph Lauren. Instagram, on the other hand, displays on the cell phone screen photos recently uploaded by other users and the comments they received. Figure 2 shows a photo uploaded by Mercedes Benz illustrating the unspoken rule of Instagram: uploading high quality photos.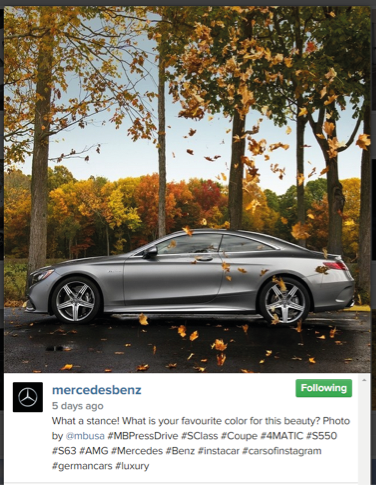 If an image is worth more than a thousand words, these examples reveal that for brands with high visual content (such as cars, fashion and travel) these networks provide an alternative way of generating engagement among followers of the brand, with better measurable results than Facebook or Twitter.
Among the things that have drawn attention to these new networks is their rapid dissemination, even in the volatile world of social media. It took Pinterest only 22 months to reach 10 million users, and Instagram followed in half that time. Both have been extremely successful, although their philosophy and value proposition are very different.
Ben Silbermann, Evan Sharpe and Paul Sciarra launched Pinterest as a digital scrapbook in March of 2010. Sharpe was studying architecture at Columbia University and had a large collection of drawings and sketches that he found increasingly difficult to organize (Bercovici, 2014). He was not the only one with that problem. The idea of organizing scrapbooks dates back to the last decade of the 19th century with the advent of color display advertising in catalogues like Sears and magazines like Good Housekeeping. Some of the scrapbooks of that era ended up in historical archives such as that of the Schlesinger Library at Radcliffe Institute at Harvard University (Zhong, 2014). Pinterest solved a problem for millions of collectors of graphic material, most of whom were women. The tool made it easy to take an image from any website on the Internet and "pin it" to a personal board.
Each user can have multiple boards with images selected and organized thematically. Moreover, as Pinterest is a social network, the boards are public. The traditional scrapbook could be shared with the family and some friends. A good Pinterest board attracts thousands of followers, anxious to know the next image to be added. In addition, they access this on their cell phone, since more than 90% of the use of Pinterest is mobile, surpassing even Twitter (Bercovici, 2014). Navigating on Pinterest boards thus becomes a way to get inspiration, to share good taste and contrast it with that of others, and to feed nostalgia and life projects (Zhong, 2014).
This is how Pinterest can make a real revolution. In a recent interview with Forbes, Silbermann muses, "How do we do for discovery what Google did for search? How do we show you the things you're going to love even if you didn't know what you were looking for?" (Bercovici, 2014)
As Twitter popularized the term "retweet," –as indication that many users liked some content – Pinterest has popularized "repin," referring to the images chosen by many users to add to their boards. In fact, repin is the most frequent activity on Pinterest (80% of the pins are repins), and it has a special appeal for brands because it contributes to the viralization of the branded content that users find attractive. One study found that of 17 million manifestations of engagement with brands – including pins, repins, comments and "likes" – only 15% occurred on the official brand boards, the other 85% occurred on the boards of users who had repined images on their own boards (Zhong, 2014).
Pinterest has started selling ads under the Promoted Pins format, and since the profile of the website is 80% female and with a strong purchase intent, it can charge advertisers higher fees than Facebook (Bercovici, 2014). When a user pins a wedding dress or a dining set on her board, she is probably expressing an intention to purchase, and the manufacturers would be interested in showing her ads of their products. However, Pinterest is being cautious with the quantity and the quality of Promoted Pins to avoid damaging the experience of the users. Every Promoted Pin, such as the photo of a woman's handbag, should fit naturally on the advertiser's official board, and will only appear among the results of users who are searching for handbags.
If Pinterest was created to collect existing images on the Internet, Instagram was built to facilitate the creation of new images. Developed by Kevin Systrom and Mike Krieger, it is an iPhone application that lets you easily upload photos taken with a cell phone to Facebook, Twitter or other social networks, in addition to sharing them and commenting on them with other Instagram users.
It was started as a mobile-only social network, which in the first two years was only accessible from the iPhone screen. This limitation did not affect its popularity, as people increasingly accessed the Internet from their phone. Instagram was launched on the Apple App Store on October 6, 2010. It attracted 100,000 users in the first week, and has remained among the 10 most downloaded apps for the iPhone. This success caught the attention of Facebook, which in April 2012 bought Instagram for a billion dollars, when it had just a dozen employees (Hempel, 2014). At that time, the purchase seemed extravagant, but two years later it is evident that it was a bargain because of its strategic value, comparable to the acquisition of YouTube by Google in 2006.
Among the innovations that contributed to Instagram's success was the use of filters to enhance the appearance of the photos taken by its users, who were almost all amateurs. In this way, many people became interested in photography and, with practice and feedback from other users, obtained results that once would have been considered professional. Luxury brands also found that Instagram is an effective way of distributing high quality photographs of their products, and this is the type of advertising that users actually want to receive and enjoy on their phones.
The profile of an Instagram user (55% female) is more gender balanced than that of Pinterest, although it is younger, with 54% of its users between 12 and 24 years of age, compared to 30% of Pinterest users. They are also, overwhelmingly, smartphone owners, resulting in a very attractive demographic profile for advertisers. Instagram introduced its ads in November 2013 with the Sponsored Photograph and Video formats, which appear in the "Latest News" app. The company uses Facebook user profile data to select which ads to display and it has a feedback button, in case you do not like the ad. This willingness to listen to the user reduces the annoyance of introducing publicity on the platform, and helps Instagram to improve the targeting algorithms it uses
The rise of visual networks has not gone unnoticed by the major international brands. Of the 100 most valuable brands listed by Interbrand, the vast majority already have both an official Pinterest and Instagram page. Each in its own way provides excellent marketing results that complement what these brands already do on Facebook and Twitter. Recently, the consulting firm eMarketer reported that while Facebook, with more than a billion users, redirects more users to e-commerce sites than Pinterest and Instagram, the average purchasing amount is greater for the visual networks: 65 dollars for Instagram, 58.95 for Pinterest and 55 for Facebook (eMarketer, 2014). Meanwhile, Forrester Research found that on average users have 58 times greater engagement with brand content distributed via Instagram compared to Facebook, and 120 times more compared to Twitter (Elliot, 2014).
At the end of 2014, these networks continue to add new users at amazing speed. Instagram already has 200 million, almost as many as Twitter, and more than LinkedIn (Hempel, 2014). Pinterest has only 70 million, but with a particularly attractive demographic profile for brands. In Mexico, the penetration of these networks is significantly less than in the United States, but in light of recent history it is not difficult to predict what will happen in the next two or three years. Therefore, it is likely that Mexican brands, whose page is already established on these networks and which are experimenting with this new social-visual phenomenon, will soon find themselves in an enviable position. Among the most outstanding are: El Palacio de Hierro, with 51,500 followers on Instagram and 7,000 on Pinterest; Volaris with 9,800 followers on Instagram and 3,000 on Pinterest; and Pinturas Comex with 2,300 followers on Instagram and 5,800 on Pinterest. The moral for Mexican brands is that 2015 could be the time to decide whether to be a leader or a follower as they move into these new digital marketing platforms.
♦
References
Bercovici, J. (2014). "Inside Pinterest: The coming ad colossus that could dwarf Twitter and Facebook". Forbes, November 3th, 2014
Elliot, N. (2014). "Instagram is the king of social engagment", en http://blogs.forrester.com/nate_elliott/14-04-29-instagram_is_the_king_of_social_engagement.
eMarketer (2014). "Facebook is No. 1 for social commerce", en http://www.emarketer.com/Article/Facebook-No-1-Social-Commerce/1010721.
Hempel, J. (2014). "Instagram: Big, bad and ready to make money", Fortune, July 9th, 2014.
Zhong, L. (2014). "My pins are my dreams: Pinterest, collective daydreams, and the aspirational gap", tesis de maestría oinédita inédita, Massachusetts Institute of Technology, en http://dspace.mit.edu/handle/1721.1/89975.