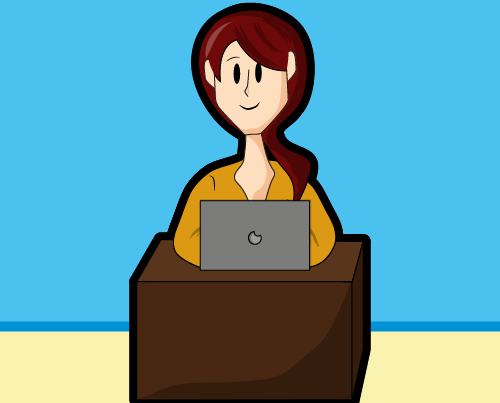 By: Google Mexico
Women are currently the engine for development in Latin America, and the number of female workers, especially entrepreneurs, is growing.In Mexico, one of every three SMEs is led by a woman, and a new initiative will enable them to expand their businesses on the Internet.
Google is launching the initiative, called "Connected," along with strategic allies such as Banorte, the Economy Secretariat, the National Entrepreneur Institute, the Mexican Association of Women Entrepreneurs, Crea Communities of Social Entrepreneurs, the National Institute for Women, Jimdo and ITAM. Its goal is to support women entrepreneurs by providing the necessary tools to use the Internet as an effective and free channel to expand their SMEs, to grow and pursue new business opportunities. This initiative seeks to reduce the digital divide, contribute to gender equality and promote socio-economic development and competitiveness.
"Connected" promotes a unique space where women can find information to understand the tools available and the steps to take to put their businesses online and to attract new customers.
In addition, they share stories with other women who have reached out to the Internet as a means to grow their businesses and integrate a community of entrepreneurs to generate a true environment of entrepreneurialism.
"We believe that women are an engine for development in Latin America and the Caribbean. In Mexico, one of every three SMEs is led by a woman and we would like to introduce them to the Internet tools to contribute to the development of their projects of entrepreneurship," said Miguel Alva, director of marketing for Google México.
"Connected" began as a parallel project to "Connect Your Business", in which entrepreneurs can get a domain, an administrator for their web page and free hosting for 12 months. "The value-added for women entrepreneurs is to generate publicity on the Internet for their business, send traffic to their page and obtain educational tools and financing to grow their business," Alva pointed out. With these two initiatives, entrepreneurs may detect and initiate discussions with potential customers who navigate looking for products and services that they offer. In addition, the entrepreneurs who join "Connected" or "Connect Your Business" will have access to solutions and content that will provide useful tools to enhance and develop business skills.
Alva said that when an entrepreneur wants to start or expand their business to the Internet, they encounter too much information and it is overwhelming. "Through our initiative we guide the entrepreneurs to identify what they need in each of the stages of maturity of their business," he said. "At the same time, they will be generating a community of women who share their experiences with one another and help each other resolve doubts."
According to the executive, "Connect Your Business" has registered more than 70,000 SMEs, of which 60% have an active web page. Today, there are 56.5 million Mexican Internet surfers, of whom at least 50% look for products, goods and services online and 35% make purchases using this virtual mechanism. Therefore, "we hope that 'Connected' has the same success," Alva said.
Why have a business online?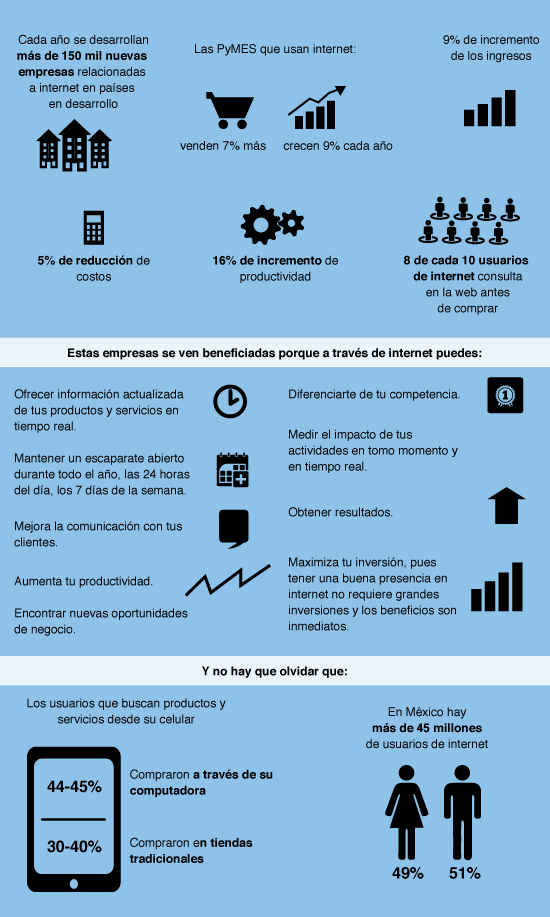 To create a web page on "Connected" is very simple. You only have to go to conectadas.com.mx.mx and follow the steps. In a few minutes any company can be added to the Internet with administration, hosting and domain free for a year. It will also have an email account, technical support and a budget in the platform of online advertising with Google AdWords.
A success story is that of JuanaCata.com.mx, an SME that makes and sells handicrafts from Mexico. It was founded in Oaxaca, in February 2012, by Ileana, a young woman who wanted to help her family. When searching for a quick and easy solution to add her company to the Internet, she decided to create their website with "Connect Your Business", and its growth has been rapid.
The company is made up of nine women who embroider shirts, purses and other items. Their raw material is the table covering, and workmanship of each piece can take up to two days. With "Connect Your Business", they have managed to expand. In one year, their page has had more than 5,000 visits and sales increased more than 10%.
Tips to ensure the success of your web page:
Plan the structure and type of information that you want to display. Before designing your web page, carefully determine the objective (inform, sell). When you are clear about what you want, make a separate sketch of the structure of the page. What are the most important points for navigation? What images are the most representative and attractive? What texts? Note that it is essential that visitors quickly and easily find the information they are looking for.
Present all information in an attractive, clear and orderly fashion. Choose an appropriate design for the visitors and content of the page. A page for a law firm, where more formality and seriousness is expected, will not be the same as another dedicated to design, where creativity and originality is valued more. Make it easy for the user to navigate the page without ever feeling lost. To do this, you should create five to seven main points in the navigation, use attractive and meaningful images, and write short paragraphs.
Think about the audience you want to reach and adapt the content accordingly. Regardless of your audience, it is necessary that the ideas are well written and without spelling errors. Above all, you are a professional and you have to transmit it. Do not forget to adapt the content to its objectives. Think about how much information you'd like to present to your visitors and how to do it.
Keep your web page updated. Everyone likes new things, so you cannot let your page fall into oblivion or obsolescence. Enter new developments on the page and inform users about new products, for example, through articles in a blog on the page. In addition, search engines such as Google also like active pages and value new content.
Analyze the statistics of your website and take the necessary measures. After launching the site and receiving the first visits, analyze and evaluate the behavior of the visitors (how long they stay on the page, which sections they visit, which pages they come from, etc.) Then, depending on the results, adapt the content or change the type of information or the structure. It is important never to lose sight of the impact of the new changes. In this way, you will know what works best on the web page and how to act accordingly.
Simple, effective and free. "Connected" leads entrepreneurs to the Internet in order to develop them and to continue pushing Mexico forward. Learn more about this initiative at conectadas.com.mx. ?